●
HOME
> Our fundamental principles
Our fundamental principles
In order to protect the health of the local community, we aim to provide the best possible treatment through the latest and most advanced health care techniques, while implementing the following:
Patient Centered Care


We provide safe, personalized and effective treatment with a high ethical standard. We prioritize patient outcomes, while also respecting patients' rights and desires as an individual.

Care for the Whole Patient


We provide an integrated treatment that combines expertise, technology and philanthropy, to care for the patients overall health, not just a specific condition. The mental, physical and the improvement of the patient's quality of life are all considered in treatment.

Advanced, High Quality Care


We provide treatment with a firm base in science while furthering our expertise to provide advanced world-class health care for our patients.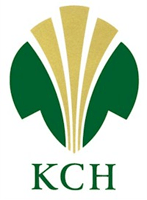 KCH Emblem
Since its foundation, the members of Kurashiki Central Hospital have considered the Japanese Ivy growing on the hospital buildings to represent vitality and tranquility. The three pillars in the center extend towards the sky, representing KCH's three basic principles of: patient-centered care; care for the whole patient; and advanced, high quality care. The green of the ivy represents safety, cleanliness, and tranquility, while the gold of the three pillars represents the dignity of life.