●
HOME
> Hospitalization information
Hospitalization information
01
Consultation hours
Monday to Saturday
Reception hours : 8:10am – 11:00am (8:10am – 10:30am on Saturdays)
Closed on : Sundays, public holidays, New Year holidays

02
Reception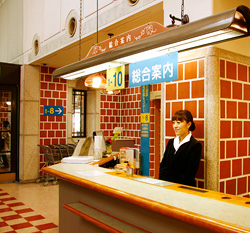 Proceed to counter 1-10 within the above hours.
03
For those with translation needs

Please notify us if you require translation services.
We will do our best to aid you in your visit.

04
Non-referral fee
As stipulated by the Ministry of Health, Labour and Welfare, any patient coming to a large scale hospital without a referral letter will incur a fee of ¥5,400 which is not applicable for rebate under national insurance, meaning the full amount must be paid.
Under these regulations, dental and general medical examinations are classified separately, meaning that each respective fee needs to be paid upon your initial visit. Emergency or other unavoidable circumstances that bring you to the hospital are exempt (e.g. being transported in an ambulance.)
This fee will not need to be paid again, unless you do not have a respective dental or medical consultation for a period of over one year, and you present without a referral, in which the fee will need to be paid again upon your next visit.
If you wish to avoid the fee, we encourage you to try going to a smaller practice and requesting a referral letter if you feel that your care will better be undertaken in a large hospital.