Department of Anesthesiology
01
What we do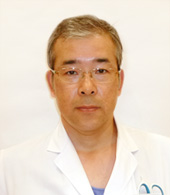 Director
Shigeki Yamashita
Outline of the Department of Anesthesiology
In this department, we administer treatment to patients who have issues with pain; suffer from serious disease; are receiving intensive care or in a critical condition; and those who will undergo surgery, requiring perioperative care.
1) Surgery Unit
In October 2010, the Surgery Unit underwent an extension, with theatres for inpatients increasing to 23. In 2012, this will be further built upon, resulting in 32 rooms in total. In the midst of ever increasing numbers of elderly patients, patients with multiple complications and also those under complex circumstances medically, each patient is consulted on an individual basis, with an anesthesia plan being formulated. From day surgery to surgery conducted over a long period of time, as anesthesiologists, we are committed in helping patients to face a wide range of surgery to the upmost of standards. We deal with both general and local anesthesia (epidural, spinal, sonography guided peripheral nerve block, etc.), with the most appropriate form of anesthesia being performed in response to patient's condition and the site and duration of surgery.

2) Intensive Care Unit(ICU)
Excluding those being treated in the Neonatal Intensive Care Unit (NICU), Neuro-Care Unit (NCU) and the Coronary Care Unit (CCU), we contribute towards the care of all critically ill patients. Patients are mainly treated who have impaired consciousness, including children; respiratory failure; circulatory failure; trauma injuries; acute drug intoxication; and the recipients of high risk surgery, with all faculties being covered, leading to a high divergence of conditions amongst patients. Recently, the frequency of elderly patients has been increasing, resulting in an increase of treatment involving multiple organ dysfunction, rather than those with single conditions. Furthermore, pediatric treatment of those with congenital disabilities is numerous, in which home treatment is included as a part of a long term strategy in the ICU.

3) Pain Clinic
Pharmaceutical and other treatments such as nerve blocking are administered in response to various forms of pain.


02
Department Outline
Number of staff (as of 1 April 2015)
Physicians: Twenty-three, with 9 in their senior residency. Three physicians on flexible working arrangements.
Training
Specialist anesthesiologists: 10 (including 9 certified trainers)
ICU anesthesiologists: 4
Pain clinic anesthesiologists: 3
Main roles of care
Anesthesia (for 2014)
Total cases of direct management: 4950
Total cases of management with surgical departments: 12 349
A total of 930 cases of ICU management (for 2014)


We work with the physicians from each medical department and undertake physiological monitoring, and management of the respiratory, cardiovascular, and nutritional status, as well as analgesia and sedation. Anesthesiologists undertake night duties after 2 months of full duties in the ICU.

Pain clinic


Staffed by one of our team, where analgesia and nerve block are undertaken.

Emergency resuscitation


All staff are ready for an emergency response to any sudden change in the condition of the patient. We also work with physicians in the emergency department and examine patients there when needed.