Department of Diabetic Medicine
01
What we do
Treatment area
We handle treatment for patients from the City of Kurashiki and surrounding areas.
About the department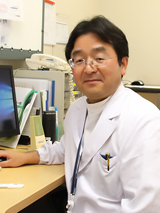 Director
Shinji Kamei
The Department of Diabetic Medicine was established in July, 2000 and has since been delivering treatment centered on diabetes and its various complications. We aim to continue improving our department while providing specialist treatment of a high standard to patients.
With diabetes, vascular complications will progress as long as appropriate treatment and monitoring fails to be administered. In addition to peripheral neuropathy, retinopathy and renal disease, diabetes also plays a large part in macroangiopathy, namely cerebral infarction, angina and arteriosclerosis. Research shows that through the appropriate control of blood glucose levels, blood pressure, cholesterol levels and body weight, the development and progression of these complications can be prevented. With these points in mind, we conduct tests including carotid ultrasound and pulse wave velocity to monitor for arteriosclerosis, while working in close collaboration with other departments in an effort to maintain proper vascular health for our patients.
We also have certified diabetes educators (CDE) working through our diabetes outpatient clinic, who assist patients in managing their condition, including their blood pressure and cholesterol levels. For inpatients, tests, treatment and disease management guidance are all undertaken in the department's ward. We operate a program here in which patients are hospitalized for either one or two weeks, in which tests are conducted to determine the pathological state of the disease. Once this is completed, the patient and related parties are consulted and a treatment plan is formulated. We then work with the patient towards self-management of the disease, with follow-up visits either being conducted in the hospital prior to referral or through our department's outpatient clinic. Data collected during hospitalization is stored in a secure hospital database which can be accessed by members of staff anywhere in the hospital to assist with the patient's care.
For diabetes, a multi-disciplinary team based approach results in a high level of care yielding sustainable results. In this department, physicians, nurses, pharmacists, registered dieticians and clinical engineers work together in a team-based approach to provide treatment and guidance from each respective professional viewpoint. We are constantly looking to improve medical safety through the implementation of measures to avoid any adverse events, especially educating the patient on the possible risk of hypoglycemia after taking insulin and other medications.
The treatment goal of diabetes is to help patients maintain suitable body weight and glucose levels, while achieving optimum control of blood pressure and cholesterol. This results in the prevention of acute complications. Furthermore, the occurrence or progression of diabetes-related vascular disorders can also be prevented, not to mention an improvement in the patient's quality of life. We hope to assist patients in achieving this while improving their life-expectancy.
Regional referral support system
Kurashiki Central Hospital plays a role in the region as an advanced core facility, designated for acute-stage conditions. According to this role, we perform reverse-referrals for any patient who has minor symptoms or has chronic conditions which are clinically stable. We also encourage patients to have a family physician, who can establish better rapport with the patient, while taking care of any minor conditions.
As part of this and to strengthen ties between diabetic practitioners within the region to provide seamless treatment for patients, we created a prefectural coordinated medical plan for diabetes. This has facilitated a closer working relationship with other diabetic practitioners and family physicians throughout the region. Under this system, our department and the cooperating institution issue a portable medical record. This is to be taken to consultations by the patient and contains the patient's glucose levels, glycohemoglobin levels, blood pressure and body weight. This is issued to willing patients and aids in narrowing the gap between our hospital and the smaller clinics.
02
Treatments, tests and conditions
Conditions handled in this department
Type 1 diabetes mellitus
Type 2 diabetes mellitus
Other diabetic diseases
Gestational diabetes
Diabetic ketoacidosis
Hyperosmolar hyperglycemic syndrome
Hyperglycemia

Treatment
In this department, we actively undertake pharmaceutical therapy, with a treatment base of exercise and diet therapy. When patients are experiencing high blood glucose levels, we recommend hospitalization, with treatment catered to each individual according to their insulin response. For type 2 diabetes, treatment can consist of either oral medication, insulin, or a combination of both. Insulin is usually either injected once per day before bed, or twice per day in the morning and evening, although lately injection schedules of three and four times per day have been on the increase. If oral medication fails to achieve glucose control over the long-run, or the patient has lost an excessive amount of weight, then insulin therapy is necessary. It has been understood through analysis of test results that 80% of patients with a diabetic history of over 20 years and a C-peptide immunoreactivity of 2.5 ng/ml and under two hours after breakfast require an insulin injection at least two times per day.
On the other hand, for type 1 diabetes, almost all patients require frequent insulin injections, or continuous subcutaneous insulin infusion. A typical breakdown of inpatients at the time of discharge would show patients on insulin therapy, sulfonylurea antidiabetic medication, alpha-glucosidase inhibitor, glinide medication, GLP-1 receptor agonist, DPP-4 inhibitor and diet therapy.
Therapy targets
Once the below values are reached and maintained, the onset and progression of diabetic complications can be prevented.
Body weight


For those who are overweight, appropriate weight loss is needed. Patients who are underweight may be experiencing this as a result of high blood glucose levels. Through appropriate blood glucose control, patients are able to return to an appropriate weight. Your doctor will advise you on your appropriate body weight.

Blood pressure


Generally speaking, less than 130 over 80 mmHg is ideal. Lowering salt content in food and abstaining from alcohol are basic approaches to treatment; however there are many instances where antihypertensive medication is needed.

Serum lipids


Through treatment we aim to get LDL cholesterol down to less than 120 mg/dl and triglyceride to less than 150 mg/dl. On top of diet therapy, we administer cholesterol lowering medication.

Hemoglobin A1c (Japan Diabetes Society Values)


We aim for under 7% and to finally get the level below 6.2%.

Blood glucose


We aim to have a level of below 110 mg/dl before eating and below 140 mg/dl two hours after eating.