Department of Hematology/Oncology
01
What we do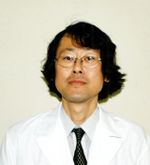 Department Head
Yasunori Ueda
Outline of the Department of Hematology/Oncology

Blood maintains homeostasis of the body, facilitates signal transmission and provides an environment for the immune system. In recent years, research has suggested that blood may even play a pivotal role in organ regeneration.
Conditions for treatment in our department include defective blood formation and hematological malignancy. We also perform treatment in cases where hematological problems result from disease and for situations where blood can be utilized as part of treatment, such as for high-dose chemotherapy and hematopoietic cell transplantation in the treatment of solid tumor. We hope to build upon treatment using the latest facilities across specialties, and to improve treatment outcomes for conditions outside of hematology, particularly hematopoietic cell transplantation and the clinical application of regenerative medicine.
We have developed a hemapheresis system using a combination of techniques, including centrifugation, membrane and hemoabsorption technology. We undertake apheresis for the treatment of anything from acute disease to hyperlipidemia. Utilizing our experience, we undertake cell storage and processing while engaging in the harvesting of hemopoetic cells for the safe undertaking of hem poetic cell transplantation and regenerative medicine. We aim to lead both domestically and abroad based on a superior health setting and facilities, and through awareness of advances and changes throughout the world. We aim to continue to provide excellent care while working with patients and their families, on the front-line with the latest knowledge, to improve treatment and outcomes.
02
Conditions handled in this department
Haematological malignancy
Acute leukemia
Myelodysplastic syndrome
Myeloproliferative disorder
1. Chronic myeloid leukemia (CML)
2. Myeloproliferative disorder (other than CML)
Malignant lymphoma
Multiple myeloma
Non-tumour disease
Aplastic anemia
Idiopathic thrombocytopenic purpura
Thrombotic thrombocytopenic purpura/hemolytic uremic syndrome
Hematopoietic cell transplantation
Hematopoietic cell transplantation is one method of treatment for the above conditions.
As a designated facility under the Japan Marrow Donor Program, we are actively involved in unrelated donor bone marrow transplants, including referrals. We also deal with bone marrow harvest from bone marrow bank donors and are a designated facility for peripheral blood stem cell harvesting. We also are a Japanese Cord Blood Bank Network designated transplant facility, with transplantation numbers gradually increasing over time.

03Accreditations
Japanese Society of Hematology Designated Training Facility
The Japan Society of Transfusion Medicine and Cell Therapy Designated Physician Facility
The Japan Society of Transfusion Medicine and Cell Therapy Designated Technologist Facility
Japanese Society for Apheresis Designated Specialist Physician Facility
Japan Bone Marrow Transplant Association Unrelated Donor Bone Marrow
Harvesting and Transplantation Treatment Designated Facility
Japan Bone Marrow Transplant Association Unrelated Peripheral Blood Stem Cell
Harvesting and Transplantation Designated Facility
Japan Cord Blood Bank Network Registered Transplant Facility
The Japan Society of Human Genetics Designated Training Facility