Department of Aesthetic Surgery
01
What we do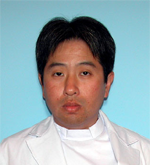 Director
Hisanao Aoki
Commonly referred to as cosmetic surgery, the Department of Aesthetic Plastic Surgery was established at this hospital in 2003. Plastic surgery is well known for young women receiving nose, eyelid and other procedures; however we are now seeing a rise in middle-aged patients seeking procedures for wrinkles and skin rejuvenation. As the range of procedures broadens, we are seeing an increase in the use of laser and light therapy, as well as surgery.
02
Treatment numbers, tests and conditions
For the safety of our patients, we only use equipment and pharmaceutics designated by the Ministry of Health, Labour and Welfare. As a result, we only perform the below procedures.
Surgery
Double eyelid surgery
Facialplasty (above and below the eyelids)
Surgery for bromhidrosis (excessive body odor)
Mole removal (including laser treatment)
Laser, phototherapy
Wrinkles
Ruddy complexion
Skin pigmentation
Hair removal

Specialist tools
Intense pulsed light therapy laser
Long pulse alexandrite laser
Ruby laser
Carbon dioxide laser
Radiofrequency and radio surgical technology