Kurashiki Central Hospital is now Officially Accredited by Joint Commission International!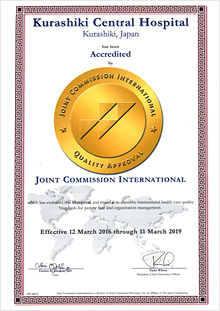 On the 12th of March 2016, we were officially accredited for the first time by Joint Commission International, an organization which assesses medical quality and safety to the international standard. We incorporated the accreditation process in our ongoing objective of providing the most ideal treatment for the patient and as part of the hospital's founding principles of "patient centered care," "care for the whole patient," and "advanced, high quality care." Our staff have worked incredibly hard over the last two years to change the hospital culture to the JCI standard, so we can keep improving the way we deliver safe and effective care to patients.
From the 7th to the 11th of March, a JCI survey team of 5 members consisting of doctors, nurses and other health professionals were sent to this hospital for the strict review and evaluation of standards spanning 14 categories and 1146 items, starting with categories such as "patient safety" and the "improvement of the quality of care." The surveyors undertook their evaluation based on the combined findings of random inspections at clinical sites and facilities throughout the hospital; and through the reviewing of the medical records and interviews with staff.
Thanks to the hard work of our staff, we are extremely proud to have been officially recognized as a hospital which is up to the global standards of Joint Commission International. However, this is merely a starting point in our mission to provide care at the global standard; JCI accreditation is ongoing and demands continuous self-assessment and improvement processes between each official survey.
About Joint Commission International JCI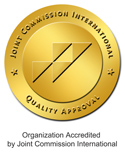 Joint Commission International is an organization based in the U.S.A. which specializes in the auditing of medical institutions. It was originally founded as The Joint Commission for the domestic evaluation of medical institutions in 1994. As an organization which evaluates and assists hospitals to achieve higher standards of patient safety and improvements in care, the JCI accreditation process is being undertaken on an ongoing basis by many hospitals across the world.

JCI website (opens in a new window)