Department of Orthopedic Surgery
01
What we do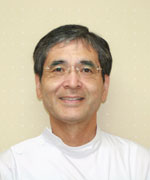 Director
Hayao Shiode
In this department we look after everything from spinal conditions, joint conditions of the limbs and surgery of the hands to surgery for external trauma. We take care of patients using pharmaceutical, prosthetic and surgical treatments; however surgery accounts for almost all instances of hospitalization. The majority of our patients come from the western part of Okayama Prefecture, but we also get patients coming from the north of the prefecture, the eastern part of Hiroshima Prefecture and also from Kagawa Prefecture.
02
Conditions handled in this department
Spinal surgery
Many conditions can occur resulting from the spine, including neck, back and lower-back pain and even numbness, paralysis or pain in the hands and feet. This is a result of pressure being placed on the spinal cord and its associated nerves.
Outside of MRI scans, we also conduct procedures such as nerve root and facet block to isolate and identify the responsible region, which is then treated with the appropriate surgery.
The list of conditions we cover includes a wide-range such as cervical disk herniation, cervical spondylotic myelopathy, ossification of posterior longitudinal ligament, atlantoaxial subluxation, ossification of ligamentum flavum, spinal cord tumor, spinal cord metastasis, lumbar disc herniation, lumbar spinal stenosis, spondylolisthesis and scoliosis.
◆Intraoperative electrophysiological monitoring
To avoid injury to the nervous system in surgery for conditions such as ossification of posterior longitudinal ligament and adolescent idiopathic scoliosis, intraoperative electrophysiological monitoring is used, with indicators from the patient including spinal evoked potential and neural action potentials being measured during surgery.
◆Microscopic surgery
Surgery involving minute operation is conducted under a microscope, facilitating heightened safety and precision for procedures such as laminoplasty and lumber disc fenestration.
◆Computer-aided surgery
A simulation is conducted using a pre-surgical image, with the computer performing the procedure according to the set plan. This is used to enhance levels of safety and precision for procedures like lumber interbody fusion and the excision of legions.
◆Endoscopic surgery
We are working with microendoscopic discectomy for a portion of our patients who are suffering from lumber disc herniation.
◆Vertebroplasty
Balloon kyphoplasty is a type of spinal surgery that has become applicable under national insurance since 2010. It is a form of surgery to relieve chronic pain caused by thoracolumbar compression fractures that fail to heal, causing severe pain and difficulty in movement. When a patient's fracture looks likely to fail in healing (nonunion), we perform a small bone excision and inject bone cement into the affected vertebra. It is a procedure that can yield significant reductions in pain for a condition where patient numbers are believed to substantially increase in the future.
Supervising doctor: Dr Akira Sakamoto
Typical examples of surgery

Cervical laminoplasty

We perform cervical laminoplasty here for treatment of conditions including ossification of the posterior longitudinal ligament of the cervical spine and cervical spondylotic myelopathy. Patients can generally walk using a prosthesis two to three days following surgery and are able to return home around two weeks following the procedure.

Lumbar microdiscectomy

This operation is for patients with lumbar hernia, in which a herniotomy is performed using a microscope. It is possible for patients to walk two to three days following surgery with the use of a brace or corset and patients are generally able to return home around two weeks following the operation.
Hip surgery
Our team deals with many conditions affecting the hip, including hip osteoarthritis, rheumatoid arthritis, rapidly destructive coxarthropathy, acetabular dysplasia and osteonecrosis of the femoral head. Depending on the patient's age, symptoms and imaging/examination results, we perform procedures including rotational acetabular osteotomy, hip replacement surgery and transtrochanteric rotational osteotomy of the femoral head; however for the large part we mainly perform hip replacement surgery.
Fixation for hip replacement falls into two categories of cemented and cementless fixation, according to age, bone density, etc. Cementless fixation is employed in the majority of surgery in recent years. We also have a bone bank (where femoral heads are frozen and stored), meaning that in reimplantation procedures where bone loss is significant, we are able to perform impaction bone graft, in which KT plates, mesh and so forth are used for reinforcement.
With the use of a pelvic guide tool developed in this department, we are able to accurately perform procedures including cup placement and correction for leg length inequality.
Hip replacement
This procedure is performed for conditions including hip osteoarthritis, rheumatoid arthritis and osteonecrosis of the femoral head. Age and bone condition usually necessitates either cemented or cementless fixation. For a regular hip replacement in which acetabular bone transplantation is not needed, walking is possible from three days following surgery and the patient can return home after three weeks.
Knee surgery
Apart from knee replacement arthroplasty, we perform cases of surgery involving the arthroscope, including anterior cruciate ligament reconstruction. The arthroscope is also used in shoulder, elbow, wrist and ankle surgery. In other surgery, we also aim to perform the best surgery according to the patient's needs, including osteochondral grafting (mosaicplasty) and high tibial osteotomy.
Knee replacement arthroplasty
This is performed for conditions including knee osteoarthritis and rheumatoid arthritis. Rehabilitation generally starts two days following surgery, with the patient being able to walk three days from the start of rehabilitation and being able to return home three weeks later.
Meniscus and ligament knee surgery
Under an arthroscope, early stage rehabilitation is a possibility. Rehabilitation starts on the day following surgery, with patients receiving surgery for the meniscus able to return home two to three days following surgery. For anterior cruciate ligament surgery patients can return home two weeks after surgery.
Shoulder surgery
Especially in sports orthopedics, shoulder surgery is frequently performed. Through shoulder arthroplasty, we perform procedures such as Bankart repair for recurrent shoulder dislocation and arthroscopic repair of the glenoid labrum for the mainly sports related injuries.
Bankart repair

This was previously done through open surgery; however it is now generally performed using an arthroscope, meaning that the procedure is minimally invasive, with no difference in the risk of redislocation compared to open surgery. Rehabilitation is needed following surgery, with the patient usually being able to return home in just under a week.

SLAP repair

Another injury which is treated through arthroscopy, it is something that we don't encounter so often in this department. This injury is also very difficult to detect accurately through imaging. Rehabilitation is also essential for this, with most patients going home within a week.

Shoulder hemiarthroplasty, total shoulder arthroplasty

This is performed for certain instances of rheumatoid arthritis, humeral head necrosis and proximal humeral fracture. Requires around two weeks of hospitalization.
Hand/micro-surgery
This deals with a range of deformities and dysfunction of the fingers and upper limbs and also includes peripheral nerve dysfunction and injury stemming from the brachial plexus. Trauma (fracture, tendon injury, vascular injury, nerve injury), chronic conditions (carpal tunnel syndrome, Kienbock's disease), congenital anomalies of the upper limbs and rheumatic disorders of the upper limbs are also taken care of here.
We also treat conditions including infected non-union and chronic osteomyelitis with treatments such as the Ilizarov external fixator or microsurgery in which vascularized tissue transfer of bone or muscle is performed.
Reconstruction of the fingers and thumb is undertaken with treatments including free vascularized toe transfer and costo-osteochondral graft. Arthroplasty has been adopted as treatment for triangular fibrocartilage complex injuries, etc.
We enjoy a solid working relationship with the rehabilitation clinic. Rehabilitation and surgery work hand-in-hand, meaning we wouldn't be able to achieve satisfactory results for patients with merely one or the other. Doctors and therapists regularly collaborate with other while treating patients, while also discussing patient outcomes.
Periods of hospitalization range from day surgery for smaller surgery, up until long-term surgery in which surgery and rehabilitation must be conducted over an extended period of time.
Trauma
Fracture surgery
Due to an ever increasing amount of elderly patients experiencing fractures, including femoral neck and trochanteric fracture, we approach treatment aiming for early treatment and early recovery. For medial femoral neck fractures, we perform either osteosynthesis or femoral neck replacement depending on the type of fracture, age of the patient, access to local follow-up facilities in place of residence, walking ability prior to injury and so forth.
Femoral head replacement

This is normally performed cementless, with the patient being able to walk from the third day following surgery and being able to move to a closer hospital one to two weeks later.

Trochanteric fracture

We normally use a trochanteric nail and perform osteosynthesis though a small incision into the skin. Walking is possible the next day and the patient is able to transfer to a local hospital within one to two weeks.