Department of Urology
01
What we do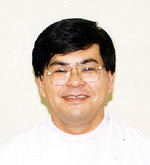 Director
Akito Terai
In this department, we look after all urological conditions, ranging from primary care through to advanced medical treatment. Our patient demographic consists of a large amount of elderly patients, so in order to meet both their wishes and values our basic approach to treatment prioritizes preservation of function with a minimally-invasive approach. On the other hand, for advanced cancer we work using a proactive, multi-disciplinary approach involving treatments including surgery, chemotherapy and radiotherapy. Other than university hospitals, we are the largest urology facility in western Japan.
02
Conditions handled in this department
1. Prostate cancer
This department ranks highly domestically for the number of radical prostatectomies undertaken. This is usually performed here through an opening in the abdomen of around five to six centimeters in size, leaving a minimal scar. In instances where the patient wishes to preserve any pre-existing erectile function prior to surgery, we perform electrical stimulation of the cavernous nerve during surgery in order to preserve the nerve (nervi erigentes) which is responsible for erectile function. When the preservation of the nerve is carried out as intended, preservation is possible in almost 100% of cases. Recently, patients under the age of 60 have been increasing, meaning that this procedure can enhance their post-surgical quality of life. When a prostatectomy is carried out, our critical path aims to have the urethral balloon removed in five to six days and the patient discharged in seven to eight, with 95 percent of cases occurring to plan. We have also managed to keep surgery where transfusion is required to around two percent of the total.
When a patient has locally advanced prostate cancer, treatment consists of radiotherapy rather than surgery. Radiotherapy in this instance consists of three different types: external beam radiotherapy, performed at this hospital; high dose-rate brachytherapy, performed at Kawasaki Medical University; and iodine brachytherapy, performed at Okayama University. In this department, we form treatment plans with patients after sufficient discussion and consent from the patient.
Furthermore, we also undertake endocrine therapy first, followed by external beam radiotherapy to aim towards either curing or controlling the disease over the long-term. For intensity-modulated radiotherapy on new linear accelerator equipment, a dose of 74 Gy is now possible.
2. Urothelial Carcinoma
For progressive bladder cancer, we recommend cystectomy as the first choice in treatment in order to prioritize cure, with other conservative treatment such as combined chemotherapy and radiotherapy not being practiced as actively here. We also perform electrical stimulation of the cavernous nerve to preserve erectile function as per prostatectomy, with the aim of maintaining post-surgical quality of life for the patient.
For the treatment of ureteropelvic carcinoma and bladder cancer, pre- and post-surgical combination chemotherapy takes a vital role in treatment, with this aiming to treat metastatic legions and control localized cancer. We actively pursue chemotherapy here in cases where a multi-disciplinary approach may result in cure. We also are proactive in the use of chemotherapy in palliative treatment upon due consideration of suitability. For this reason, the cases handled here are in the same league as university hospitals.
3. Laparoscopic surgery
At the moment, we treat almost all cases of adrenal, kidney and ureteropelvic tumors with laparoscopic surgery. Cases where open surgery is necessary consist only of cases with large tumors, or tumors of a high malignancy and invasiveness. Even though it is termed laparoscopic, surgery performed in this department through the retroperitoneal cavity rather than the peritoneal consists of the majority of operations here. This surgery involves a small incision and has the merits of both minimal post-surgical pain and also a quick recovery following surgery.
4. Benign prostatic hyperplasia
Transurethral resection of prostate (TURP) was the standard for benign prostatic hyperplasia; however a new surgical technique: holmium laser enucleation of the prostate (HoLEP), has replaced this. This surgery involves removing the adenoma as a complete whole by separating the area between the adenoma and prostate capsule while stopping hemorrhage. Once the adenoma has been released into the bladder, it is crushed up with a morcellator and then extracted through suction. Compared to TURP, hemorrhage is minimal and any effect on the cardiovascular system as a result of perfusate suction is also minor, meaning that in instances where TURP is deemed unsuitable due to reasons such as complications or a high-grade of hyperplasia, HoLEP can be undertaken safely. Post-surgical recovery of urine function is also extremely good, making this a superior type of surgery.
5. Male infertility
Male infertility is among many conditions of the reproductive organs treated in this department and is taken very seriously, with the male accounting as the cause of infertility in half of all cases. Working together with both gynecologists from this hospital and physicians from around the region, we play a role in performing some excellent assisted reproductive technology techniques including testicular sperm extraction and microsurgical epididymal sperm aspiration. Testicular sperm extraction involves microdissection, performed with a surgical microscope. This department is noted for causing minimal damage to sperm tissue in the procedure and a high extraction rate, resulting in fertility successes for even the hard to treat Young and Kleinfelter syndromes. We also perform day surgery on patients who are of a suitable childrearing age in order to meet their fertility needs.
6. Female urology (urogynecology)
From around the age of 40 to 50 in women, the tissue supporting the pelvic organs (muscle, tendons, etc.,) often becomes frail, with instances where this causes conditions including urinary incontinence and genital prolapse frequently seen. This specialist field which deals with conditions specific to females is known as urogynaecology or female pelvic floor medicine. We began operating an urogynaecology outpatient clinic in 2007, to start addressing female pelvic floor medicine seriously, with incontinence and genital prolapse playing the central role as subjects of our treatment. For urinary incontinence, other than physiotherapy based equipment, we perform transobturator tape procedures, enabling patients to select a treatment which is suited most to both their needs and their condition. We also perform mesh repair procedures with the transvaginal mesh technique for genital prolapse. We believe that patient numbers for this area will further increase into the future, so we are working hard in supporting this area of medicine.