Department of Otolaryngology
01
What we do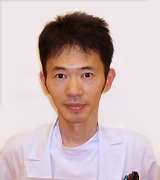 Director
Shinichi Sato
This department looks after disease of the ears, nose and throat, including:
| | |
| --- | --- |
| Ear: | Hearing loss, dizziness/balance, middle ear infection |
| Nose: | Sinusitis, allergic rhinitis |
| Oral and throat: | Tonsil, tongue, mouth |
| Voice box, wind pipe, oesophagus: | Vocals, respiratory, swallowing |
| Head and neck surgery: | Paranasal sinuses, tongue, oral and throat, salivary gland, voice box, windpipe, cervical oesophagus, thyroid tumour   |
This wide range of conditions affects language, hearing, respiration and swallowing, all essential to the human being and thus requiring a specialist approach.
Treatment area
Central and west Okayama Prefecture, Kurashiki, Soja, Takahashi, Niimi, Ibara, Kasaoka. In specialist cases, we receive patients from east Okayama City, Kagawa Prefecture and east Hiroshima Prefecture.
02
Conditions suitable for treatment
We conduct outpatient consultations on weekdays and Saturdays, consulting with around 140 patients a day. We operate on a reservation system in order to minimise waiting times and to provide a thorough consultation. Specialist outpatient consultations consist of hearing loss, hearing aids, vocals, swallowing and throat problems. For improved efficiency and patient outcomes, we operate within a regional referral system and provide care to the patient at the most appropriate medical facility for their condition. We currently have 45 beds for admissions and performed surgery 1530 times in 2012, including outpatient surgery.
Ears
With an average admission time of one week, we perform surgery for middle-ear conditions including perforated eardrum and cholesteatoma. Objectives of cholesteatoma surgery include single-stage completion, the preservation of the anterior wall and the minimising of postoperative follow-up. We also aim to perform myringoplasty without admission. In 2012 we performed ear surgery 170 times, with 92 consisting of tympanoplasty. Our track record for hearing outcomes are amongst the best in the country.
For dizziness, balance disorders and hearing disorders, we offer specialised diagnosis and treatment, advising patients on the selection and installation of the correct hearing aid. In instances when a hearing abnormality is detected in neonatal screening, we perform the auditory brainstem response test to obtain a detailed diagnosis.
Nose
Using an endoscope, microdebrider and laser, we perform minimally invasive and results orientated surgery. In 2012, we performed 203 cases of paranasal surgery by endoscope. In 2009 we introduced a surgical navigation system, making high-quality and safer surgery possible.
Oral, throat
Tonsillectomy involves the risk of postoperative haemorrhage, resulting in a trend towards this being performed at institutions with adequate surgical and anaesthesia facilities. In 2012 we performed tonsillectomy 184 times under general anaesthesia. We team with neurology, respiratory medicine, Pediatrics and dentistry to treat snoring and sleep apnoea.
Voice box, wind pipe, oesophagus
For hoarseness of voice and other voice disorders, we use an electronic endoscope and stroboscopy for detailed sound analysis and diagnosis. Outpatient surgery is then performed to suit the patient for the best patient outcomes. In 2012 we performed laryngeal microsurgery for vocal cord polyp 52 times and arytenoid adduction, thyroplasty and other surgery 14 times to improve vocal function. We also enlist the help of speech and language therapists in cases unsuitable for surgery and also postoperatively, for speech and language therapy.
As society increasingly ages, dysphagia from events including cerebrovascular accident are on the rise, resulting in a decrease of the quality of life for the patient and their family, and the need for nursing care. Dysphagia from disease during infancy also affects children, causing recurrent aspiration pneumonia. For cases such as these, specialist care is a must. Videoendoscopic examination is easily performed, even at the bedside, and allows the identification of any aspirated food items. It is extremely useful and has largely replaced the existing videofluoroscopic examination. For patients with severe dysphagia, swallowing rehabilitation treatment is also available, but in any non-responsive cases surgical intervention is undertaken to improve outcomes and to prevent recurrence.
Head and neck surgery
This area involves the essential vocal, respiratory and swallowing functions. As a result, we aim towards the complete cure of tumours while preserving or reconstructing for both function and appearance. This is achieved through close collaboration with surgeons, radiologists and plastic reconstructive surgeons. For example, we perform free tissue transplantation by vascular anastomosis. We cater treatment to the individual patient, establishing a plan according to their physical, mental and social needs, utilising a combination of surgery, radiotherapy and chemotherapy treatments.
We offer advanced treatment for head and neck cancer, working with various specialists to provide the best treatment. In 2012, we performed surgery for malignant tumour of the head and neck 97 times, excluding cases involving the thyroid glands. We also performed both reconstructive anterolateral thigh flap and free jejunal transfer procedures by vascular anastomosis 13 times for progressive cancer of the tongue, oral cavity and throat.
We had a total of 22 cases of laryngeal cancer, of which 13 were treated mainly with radiotherapy to preserve voice function. In nine cases total laryngectomy was performed and a voice prosthesis installed for voice replacement. We consult regularly with radiology about treatment outcomes and planning for each patient.
Thyroid
For thyroid tumour, we work closely with both endocrinologists and pathologists through the surgical process. In 2012 we performed surgery on 149 patients, 117 of which were for malignant tumour. We aim for complete cure, while preserving the nerves and parathyroid glands. For Basedow disease we have performed both subtotal and total resection surgery. We have also performed surgery for 15 patients with primary and secondary hyperparathyroidism.
03
Accreditations
The Oto-Rhino-Laryngological Society of Japan Certified Specialist Training Facility
The Japan Broncho-esophagological Society Certified Specialist Training Facility
Japan Society for Head and Neck Surgery Certified Specialist Training Facility