Virtual tour:Botanical Atrium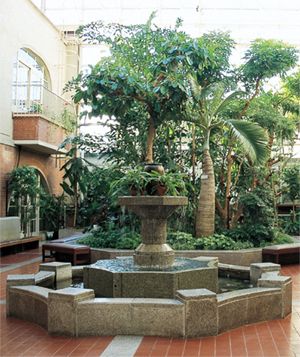 Synonymous with the hospital since its establishment, there was originally an atrium for both out and inpatients. Established by Magosaburo Ohara, he was assisted by Torajiro Kojima, the artist who procured works of art for the Ohara Museum of Art. The atriums were established to comfort patients suffering from pain and anguish, while providing something enjoyable and relieving ennui.
The current atrium was constructed in 1982, featuring around 20 varieties of tropical plants, including pink bougainvillea, bottle palms and manila palms.
The featured fountain was originally from the former inpatient atrium, being restored to 1.5 times the size of the original. On the centrepiece of the fountain is the German inscription Ohne wasser keine leben, meaning 'no water no life,' with the fountain representing the abundance of life with its abundance of water.
As well as a resting place for patients, the atrium serves as a place to remind staff of the original ethos of this hospital.