Virtual tour:History Wall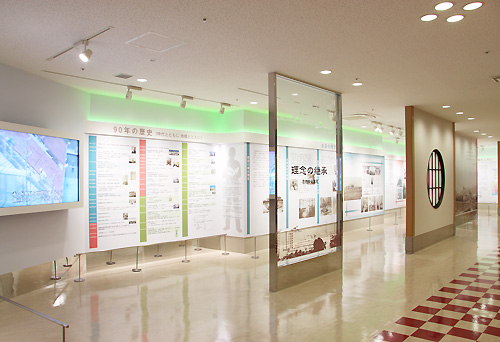 Kurashiki Central Hospital celebrated its 90th anniversary of operation on the 2nd of June, 2013. The history wall was created to share the hospital's history with members of the community and was opened on the 31st of May.
The wall is situated to the north-west in the Ward 1 Building on the first floor. Largely consisting of panel displays of information accompanied by photographs, it introduces to the viewer the hospital founder, businessman and philanthropist, Magosaburo Ohara. One can also find a narrative of the hospital's founding principles and recovery from the period of stagnation following the Second World War. Looking forward, the wall informs the viewer of the hospital in its current state, our plans for the future, getting ready for the world's largest aging society and our role as an acute-stage hospital within the region.
This wall also has a large-screen display featuring historical footage. We hope that this area contributes to our aims of patient amenity and "creating a cheerful place that does not feel like an ordinary hospital."
Location: Ward Building 1, first floor