Virtual tour:Fresco Painting: Nightingale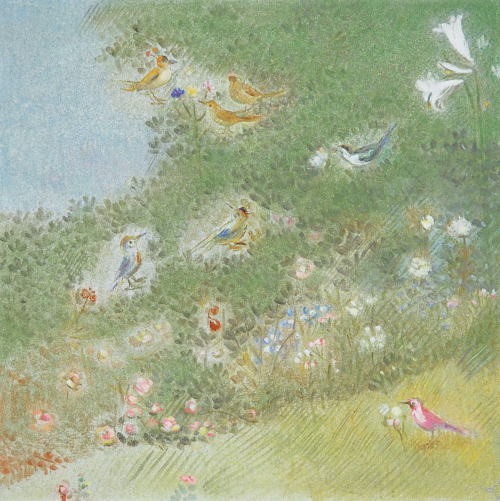 A spectacle of blooming flowers in brilliant pink, blue and white, in a field surrounded by lush vegetation. The small birds pecking at the flowers are also portrayed equally as vivid. Behind the forest is a gentle spanning light blue sky. The early summer landscape is like hearing the gentle melody of a piano while being carried away by an invigorating breeze. The painting that portrays all of this is located above the eastern entrance to Central Parlour.
Fresco painting is a technique from the west used mainly on murals, where sand and lime are mixed to make a plaster which is simply dissolved to varying extents using water to create colours. The result is paint superior in both beauty and durability. This type of paint still remains to this day on Michelangelo's Last Judgement and even in the ruins of Pompeii. The artist in this instance is Tanpei Sakuno. He has also painted fresco pieces for the Kurashiki Physical Examination Centre, the hall facing the dining area in Ivy Square and the government chamber for the City Office.