Virtual tour:Central Parlour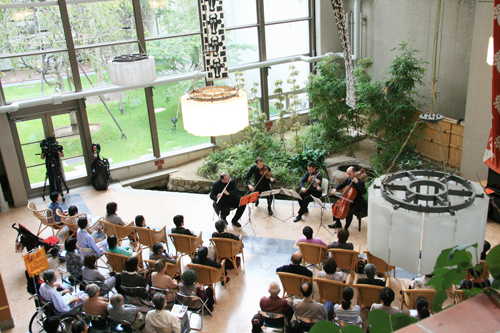 Central Parlour is a favourite amongst patients, with the miniature bamboo grove and the gentle sound from the trickling stream providing a great resting place. Central Parlour was constructed with the aim of a tranquil space in mind, in which the abundant green of the sub-tropical plants in the atrium could be enjoyed from afar, season to season. A courtyard stands adjacent, featuring camellias, the cherry blossom, azaleas and the Japanese maple.
Central Parlour is also decorated with various decorations including Hina dolls, carp streamers, a Christmas tree and hanging decorative murals according to various occasions throughout the year.
The stone arrangement in the spring was done by Masatoshi Izumi in partnership with Isamu Noguchi. The tranquil flow of the water is said to remind one of the strength of hidden life.