Virtual tour:Pediatrics Waiting Room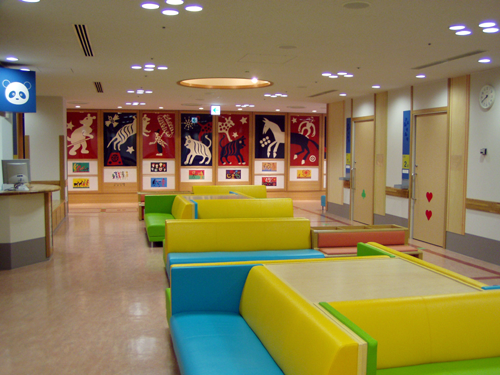 The waiting rooms in the extension to the Outpatient Building were created with a bright and comfortable environment in mind. The clear glass panels on the second and third floor allow ample sunlight to filter through, creating an open space in which the view outside can be appreciated. The Pediatrics waiting room on the second floor features a multi-coloured layout to create a fun space for parents and their children to wait in. The walls are decorated in a circus-themed katazome-style, featuring lions, clowns, horses and monkeys. This is accompanied by artwork featuring pages from the children's book Magic Words. The reassuring colours and design are designed to put the viewer at ease.
All work in this room was done by the artist Samiro Yunoki. Born locally in Tamashima and a member of the National Association of Artists, he is also the former principal of a women's arts university. Other than katazome, he is active in wallpaper and poster art amongst others. He has also received international awards for his picture books.